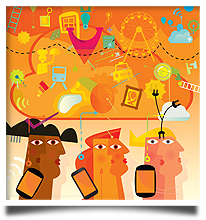 The public, either consumer or private citizen, has available since a while  the mobile technology but only recently with smart-phone and tablet and with special rate for mobile internet navigation he became to explore the mobile apps offering learning how to select effective added value mobile services between the very many ready to download from the different marketplaces.
Mobile services offered by businesses and institutions to their users need to comply with the matured user experience of the public, which must be satisfied both in terms of contents and usage contest so that the service can be really successful.
Therefore the apps must be optimized for any device and they need to comply with standard usage and with response time less than three seconds. Apps have to leverage all the available features on board of the mobile devices as localization to offer LBS (Location Based Services), the camera as bar code reader, the NFC (Near Field Communication)  for RFID tag and much more.
Static and dynamic contents must be properly managed  together with last minute promotions, mobile payments, mobile GIS (Geographic Information Systems) information and much more.
Once the app has been published become mandatory to track how the users community is really playing with it  to improve functionalities and acceptance over time
In case the service will be deployed as SaaS (Software as a Service) then an effective accounting system is needed to apply a pay-per-use or flat rates.
The bMooble technology supports businesses to overcome all the above limits and to design mobile services safe, complete and easy to use, fast to enhance and optimized for any smart-phone and tablet.