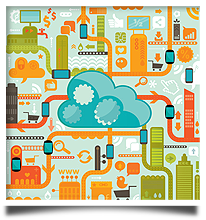 The IPV6 standard foresees for IoT (Internet of Things) in the next future a great capacity in connecting objects and people making available a wide range of new services from the CLOUD to businesses, professionals and citizens.
Today many end-to-end applications in the M2M area are already available in healthcare, home automation, energy, environment, transports and manufacturing.
Starting from the field data gathering where a wide offering of sensors and networking solutions are already in place, the market is today asking for more complex services to let machines to talk to machines while people in the move need to connect to them over applications integrated with existing ICT services available in SaaS (Software as a Service).
A strong integration between all the technical components and the appropriate control logic distribution on different levels of the M2M framework is needed to ensure redundancy and operational continuity, while moving to the CLOUD on the bMooble platform all the suitable controls which have not necessarily to run on the local level.
The M2M framework supported by bMooble allows either the integration of existing systems or the plug-and-play of new components to deliver new remote monitoring and control services to the users on any mobile device.